In Memory
Stewart Woodcock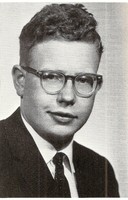 Stewart J. Woodcock
May 1, 2012
Stewart James Woodcock, 66, of Fayetteville, passed away at Crouse Hospital on Tuesday, surrounded by his family. He was born August 10, 1945, in Oneida, NY. He graduated from Oneida High School, then went onto Mohawk Valley Community College and Clarkson University, where he received his bachelor's in mechanical engineering. He worked for Chrysler Corporation for 33 years, where he received his master's in mechanical engineering through Chrysler Institute of Engineering at University of Michigan. During his time at Chrysler, he was a design and development engineer and was awarded several patents. He retired from New Process Gear in 2001.
Stu was a member of United Church of Fayetteville, where he was chairman of the Buildings and Grounds Committee and volunteered in several other capacities. He was very active with the Boy Scouts, including scoutmaster of Troop 51 of Fayetteville. He spent many summers at Sabattis Scout Reservation with the troop, family and friends. He also went to Philmont National Scout Ranch in New Mexico in 1991 with his son and a contingent from the then Hiawatha Boy Scout Council. In 1997, he received the Award of Merit, and in 2010 was named an "Old Goat." He continued to serve the Boy Scouts as a member of the Properties and Beaver Weekend Committees. He was a frequent volunteer at Beaver Weekend at Sabattis Scout Reservation. He was a life member of the Fayetteville Fire Department, where he served as both firefighter and fire police, and a volunteer with the Erieville Fire Department. He was an active member of CNY Chapter of SPAAMFAA (Society for the Preservation and Appreciation of Antique Motor Fire Apparatus).
Stu enjoyed spending time with his family, traveling, woodworking and being a handyman at home and the family's cottage in Erieville. He would spend much of his time during the summer and fall months at the cottage.
His family would like to extend a big thank you to the doctors and staff at Hematology/Oncology Associates of CNY, the "girls" at Madison Irving One Day Surgery Center Recovery Room, and all the doctors, nurses and staff at the Crouse Hospital Intensive Care Unit.
He is survived by his loving wife of 39 years, Mary Jane; his son, Timothy and wife, Kristy of Asheville, NC; his daughter, Victoria of Rochester, NY; grandson, Zachary; and aunt, Reva Harper of Oneida, NY.
He was predeceased by his parents, Azel and Doris Woodcock, and his brother, Dr. Leslie Woodcock Sr.
Services: 10 a.m. Monday at United Church of Fayetteville, 310 East Genesee St., Fayetteville. Burial at Fayetteville Cemetery. Family and friends may call from 2 to 4 and 7 to 9 p.m. on Sunday at Eaton-Tubbs Fayetteville Chapel, 7191 E. Genesee Street, Fayetteville.
For directions and a guest book, please visit www.SCHEPPFAMILY.com
Contributions in lieu of flowers to United Church of Fayetteville, 310 East Genesee Street, Fayetteville, NY 13066 or Longhouse Council, Boy Scouts of America, 2803 Brewerton Road, Syracuse, NY 13211