In Memory
John Munz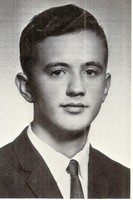 JOHN H. MUNZ

Watertown Daily Times (NY) - Wednesday, November 8, 2000
Deceased Name:
JOHN H. MUNZ GENESIS EMPLOYEE
John H. Munz, 55, of 334 Clay St., Watertown, died Monday at his home. He had suffered from arteriosclerotic cardiovascular disease.
Mr. Munz had been employed in the housekeeping department at Genesis HealthCare since 1977. He was member of Service Employees International Union Local 1199 Upstate, serving as union steward for a time.
Born April 10, 1945, in Oneida, son of Paul H. and Rosemary Henderson Munz, he was a 1963 graduate of Oneida High School and served in the Navy from 1963 to 1967.
Following his discharge from the Navy, he was a journeyman typesetter at the Oneida Daily Dispatch for 10 years before moving to Watertown.
Surviving are two sisters, Mrs. Fred (JoAnn) Clarke, Watertown, and Mrs. Robert (Paula) Ingalls, Adams Center; a brother, Keith, Osceola; two nieces, two nephews, an uncle and an aunt.
The funeral will be at 10:30 a.m. Thursday at Reed & Benoit Funeral Home with the Rev. Peter E. Mowers, pastor of Adams United Methodist Church, officiating.
A graveside service will be at 2:30 p.m. Thursday in St. Peter's Cemetery, Rome.
Calling hours will be from 7 to 9 p.m. today at the funeral home.
Donations may be made to the Children's Miracle Network.