In Memory
Sharon Merrell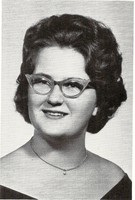 ONEIDA - Sharon A. Merrell, 65, of 458 E. Walnut Street, Oneida, died Thursday, Oct. 28, 2010, at University Hospital, Syracuse, following a brief illness.
She was born on Sept. 24, 1945, in Oneida, the daughter of Albert and Zaida Weller Merrell.
Sharon lived in Oneida all her life, and was a 1963 graduate of Oneida High School.
She worked for the Oneida Imaging Center in Oneida, and had previously worked for Oneida Limited.
Sharon was a member of the Durhamville Vets Club and also American Legion Post 169 in Oneida. She was a member of the Oneida Elks Club, the Owls Club of Oneida, Madison County Historical Society and the Peterboro Historical Society.
She was a voracious reader, loved cats, and was a great fan of the Miami Dolphins and NASCAR racing.
Surviving are: a sister-in-law, Sis Merrell of Verona Beach; a niece and nephew and their spouses, Jill and Brian Mahony of Oneida, and Al and Joanne Merrell of Baldwinsville; two great nieces, Fiona Mahony and Catrin Mahony. Sharon was predeceased by her brother, David A. Merrell.
Funeral services for Sharon A. Merrell, 65, of Oneida, will be held 10 a.m. Monday, Nov. 1, 2010, at the J. Homer Ball Funeral Home, Inc., Canastota. The Rev. William M. Wilcox, pastor of Fyler Community Church, will officiate. Burial will be in Glenwood Cemetery, Oneida. Calling hours will be held Saturday (tomorrow) from 2-5 p.m. at the funeral home, 201 James St., Canastota. In her memory, contributions may be made to Wanderers' Rest Humane Association, Inc., PO Box 535, Canastota, NY 13032, with envelopes available at the funeral home.
Published in Oneida Daily Dispatch on October 29, 2010