In Memory
Alec Mercier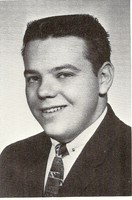 ALEC MERCIER
: Newspaper Obituary and Death Notice
Syracuse Herald American (NY) - Sunday, November 17, 1996
Deceased Name:
ALEC MERCIER
Alec Mercier, 51, of Village East Apartments died Saturday at his home.
Born in Oneida, he graduated from Oneida High School and worked for the Madison County Sheriff's Department as a chef.
He was a former owner of Standardbred horses at Vernon Downs and a member of the United States Trotting Association.
Surviving are two brothers, Paul of Sherrill and Joseph of Munnsville; and a sister, Mary Louise Brosoky of Coraopolis, Pa.
Services are 10 a.m. Wednesday at St. Patrick's Church. Burial is in St. Patrick's Cemetery, both in Oneida.
Calling hours are 4 to 7 p.m. Tuesday at Malecki Funeral Home Inc., 23 Front St., Vernon.
Contributions may be made to Hospice Care Inc.