In Memory
Sue Bennett (Morris)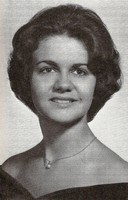 This was published in the Orlando Sentinel on February 10, 20i8:
Morris Susan A., 73, of Longwood, died Thursday, February 8, 2018. Carey Hand Cox-Parker Funeral Home, Winter Park. 407-647-1942.
Gail (Sforza) Krebs sent the following note:
I have been sending email and voice mail and class mail to Sue since January, and no replies. We usually communicated a couple times a year and on birthdays.
Sandy Ryan (Maciag), who was a special friend of Sue's brother, Rick, contacted me today with the information that Sue passed away on February 8, three months after Rick (cancer) in November. I knew she had developed pulmonary fibrosis (where the lungs stiffen and can't handle oxygen transfer any longer) and was on supplemental oxygen for several years. Do not know yet of any obituary.
A lifelong friend, I will miss her deeply.