In Memory
Chuck Hill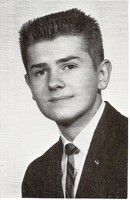 June, 17 2008
Charles F. Hill Jr. 1945-2008
A service was Friday at St. Gall Catholic Church for eight-year Gardnerville resident Charles F. Hill Jr., 63, who died June 6, 2008.

Born April 2, 1945, in New York to Charles F. Hill Sr. and Norma Marie Gradel, Mr. Hill graduated in 1967 from Plattsburgh University in New York with a teaching degree.

He moved to Gardnerville in June 2000 coming from Hollydale, Calif. He was a member of St. Gall Catholic Church.

Mr. Hill loved hiking, camping, and working in his yard.

He was preceded in death by his father.

He is survived by his mother Norma Marie Hill of Gardnerville; sisters Peggy Cappaletti of Pomona, Calif., and Elaine Kyle and husband Mark of Kent, Wash.; nieces Robyn Young and Janice Stilwell; great nieces and nephews Melissa, Emily, Joshua and Jacob.

Memorial contributions may be made to St. Gall Catholic Church community food bank. Arrangements are in the care of Capitol City Cremation & Burial.