50th Reunion Pictures
Your Reunion Committee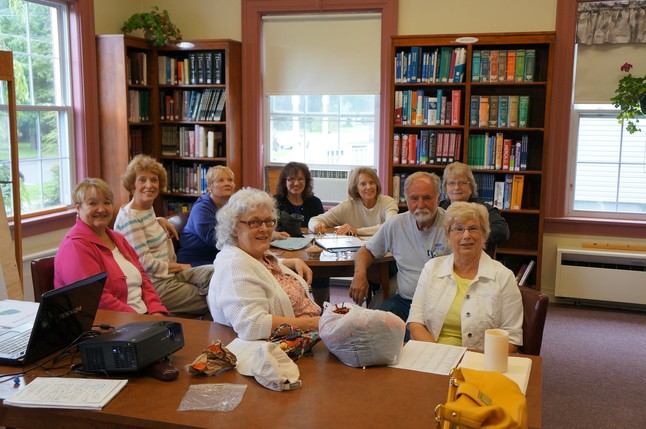 Mary Lou (Herrington) Laguzza, Diane (Scales) Monaco, Judy (Witt) Zamperetti, Mardette (Hunt) Wilson, Roz (Carnevale) McConnell, Sue (Whipple) Steiner, Dan Cochran, Carol (Boyd) Miller,and Sandy (Corl) Butler Holllenbeck. MIA Tony Monaco.
Dear Classmates,
After months of planning and anticipation, our 50th Reunion Weekend arrived and was greeted by some 85 classmates, spouses and friends from around the country. We were blessed by almost perfect weather. The first ever OHS 63 Golf Tournament was fun for all participants and allowed our golf enthusiasts to show case their "skill". The Friday night Pre-Reunion Mixer at ZABROSO's was a wonderful opportunity to greet classmates and rekindle old friendships. The atmosphere was relaxed, warm and inviting. The restaurant turned out to be a perfect host to our Mixer. The Saturday morning OHS tour was enlightening for those able to attend. The material condition of the school is impressive and the District's dedication to technology is evident throughout the Facility. Mr. Joe Stabb, Head of Facilities for the District, was the perfect tour host.
The Saturday night Banquet was the highlight of the weekend. Mardette (Hunt) Wilson and her husband Darron spent hours decorating the banquet room and it looked terrific. Thank you Mardette and Darron. Following the social hour, Doug Wilbur started the program with a thoughtful Invocation and Bob La Raia offered an insightful OHS63 Toast. The buffet followed and was delicious. The program continued with award presentations. See the Award Tab for the recipients. Keep in mind the Committee spared no expense for the Award Prizes. The program continued with some Oneida location recognition from the 50's and 60's, followed by some 1963 trivia, and then several newspaper clippings regarding our classmates. Bob La Raia, Dick Herlehy, Myron Peebles, and Gail (Sforza) concluded by offering words of encouragement in the "Open Mic" segment. The evening, however, was all about the gathering - it was wonderful. We seemed to be transformed, if only for a brief time, to the vivid memories of our high school days. We saw our classmates not as 68 year olds but as 18 year olds. The mood was engaging, warm, and relaxed. It was simply fun to be surrounded once again by the OHS Class of 1963. Thank you to all who were able to attend and make our 50th Reunion the best ever.
We plan on having informal reunion gatherings each year from now on, to be announced on the Website. The next big reunion will be at 55 years or 2018. We hope to see you all again. Until then, we wish you good health and good fortune.
Your Reunion Committee